The energizing effects of Yerba Mate are longer lasting than traditional caffeine beverages, and are found by most to be free from side effects such as, the jitters, mood swings, addiction, and post stimulation fatigue. The bottom line is, Yerba Mate gives you energy that really feels good.
Our Yerba Maté from our Brazilian community is the freshest Maté on the market. In order to keep its nutritional value as well as its fresh taste and greenness we don't let it mature in storage (unlike other producers), and we dry it gently without smoke. Our 100% organic Maté is cultivated without pesticides or chemicals, adding to its quality.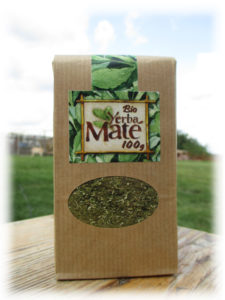 We can send you COD (cash on delivery):
Yerba Maté
– 100 g package = 95 Kč + shipping
– 250 g package = 205 Kč + shipping
– 2,5 kg package = 2000 Kč + shipping
Use our online contact form to place your order: Click here
The payment is via bank transfer or COD (in cash when you receive the delivery).